One million dollars sounds tempting, especially when someone is offering it to you. But is it really possible to make such an amount of money with this software? Read my $1,000,000 algorithm review and find out!
Overview And Ranking
Name: $1,000,000 Algorithm
Owner: Peter Douglas, Matthias Mayer, and Andrew McDonald
Website URL: https://algorithm-systems.com/
Website URL: https://earnfast-bigmoney.com/
Website URL: https://algorithm-systems.com/
Website URL: https://www.nextalgorithm.biz/
Website URL: https://make-big-m.com/
Price: Free to download, $250 for the broker
Recommendation: No
What Is $1,000,000 Algorithm
$1,000,000 algorithm is fully automated binary options trading software. The narrator in the video does not mention who he is, so it is uncertain which one from three creators of the $1,000,000 algorithm is he. The team that created this software is a team made of "professional traders, economist, mathematics, and developers."
The person who speaks in the video says that for the last 15 years they were developing software for major world exchanges, but failed to mention which exchanges.
I can only assume this is not true, because if they did develop software for someone so significant, they would have mentioned it to add to credibility. On the other hand, if they mentioned exchange and they didn't develop software for them, they would face a law sue.
Very shortly after you start watching the video, a popup on the left will start spawning showing how different people earned a different amount of money. This is just a code which I inspected. That way they are trying to make you think that people are actually making money with this software and that you should join.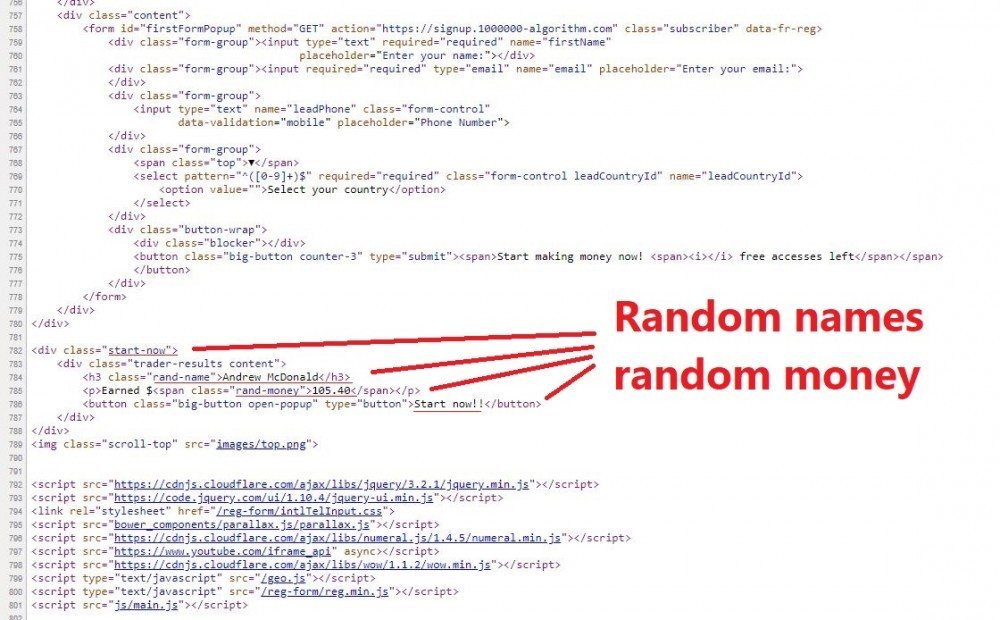 So what is so special about $1,000,000 algorithm? According to the video, they were analyzing investments from the top 30 most successful investors, and they come to the conclusion that all of their investments were flawless because they all had informations that were inaccessible to the general public.
So they developed an algorithm which tracks exchange activities of major world investors and with mathematical precision issues signals to open profitable transactions.
To test it, they gather individuals who had never traded before and gave them $250 to start trading, and after five hours of trading, they came up with results:
87% earned over $700
9% earned over $450
4% earned over $1500
On top of that, they guarantee up to 90% of successful transactions. Now, usually, in the world of trading, only 1/3 of transactions are successful, and those are sufficient enough to cover loss of other 2/3 and still make a profit. If you have your stop loss in function, that is.
So, if anyone promises you more than 33% successful rate, that is usually signal of a scam. You can check out my detail review on why it is not realistic to expect huge incomes from trading in the way that scam offers says.
At the end they say only 100 people can join monthly, and that you are in luck, because only one spot is left, and it is waiting only for you.

This, of course, is a lie and it only serves as a purpose to create false scarcity to make you think you have to join right away otherwise you will miss the opportunity. The fact is, this place will stay open forever.
The Owners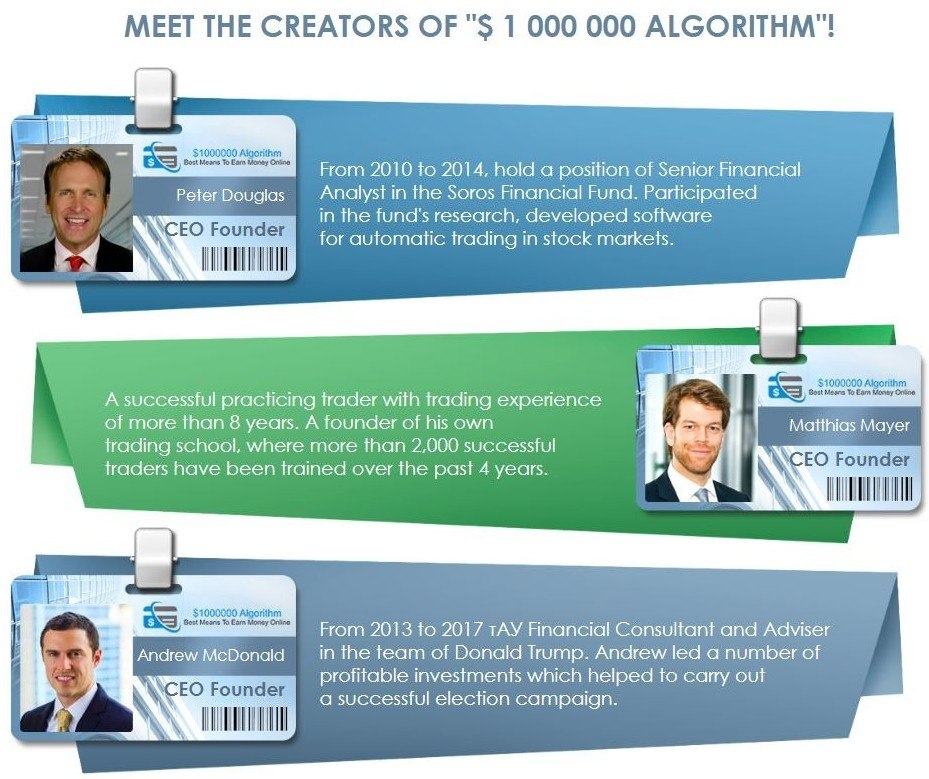 Three persons are mentioned as owners of the $1,000,000 algorithm: Peter Douglas, Matthias Mayer, and Andrew McDonald.
I have checked up all three of them, and couldn't find any connection with what they say about them.
Peter Douglas didn't work as a senior financial analyst in the Soros Financial Fund. Peter Douglas, however, is an actor, but they don't look alike, not even close
For Matthias Mayer it is written he has his own trading school. Doesn't mention which one, even though it would be very much appropriate for his credibility. Matthias Mayer is a well known Austrian ski racer. And, also, those two don't look like each other.
Andrew McDonald should have been тАУ Financial Consultant and Adviser in the team of Donald Trump from 2013 to 2017. This also isn't true. You can check a list of economic advisors for Donald Trump election.
Testimonials
Now for the fun part. At the bottom of the page and in the video, two out of three people appears. Adriano from Italy and Cloe from Canada. Let's investigate those two.
Adriano has a foreign accent in the video. But he is just an actor, hirable from Fiverr if you are willing to pay for him. His nickname on Fiverr is davidedispenza.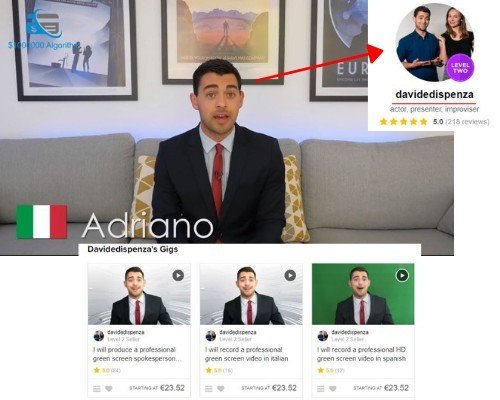 Another person from testimonials is Chloe from Canada. I couldn't find anything about her, although I am positive she is an actor from Fiverr most likely. I did, however, find out a guy next to her, who pretend to be her husband. In the video, Chloe tells us she made so much money that her husband quit his job.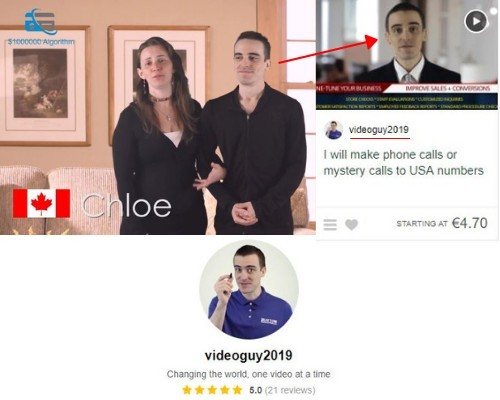 Her husband is an actor by the name videoguy2019 from Fiverr. I wonder why is he still working on Fiverr if Chloe told us he quit his job? Is it because they both are actors, paid to do their stuff?
Oh, and if you think supprises and acting stops here, you were wrong. On one of their other websites, same testimonials were used, with the same pictures, but with different names.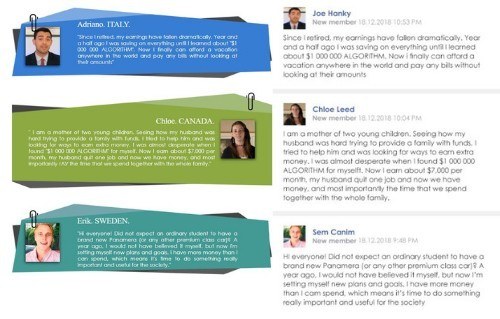 The Broker
The price of $1,000,000 algorithm itself is free to use. However, you are required to deposit a minimum of $250 to a broker account, which in my case, when I went to check was a Key Markets Ltd. It is a Forex and CFD offshore broker. The company is registered in the Marshal Islands where forex brokers don't face any of the stringent requirements properly regulated brokerages do.
Offshore brokers are not obliged to report regularly to any authority, nor to conduct external audits. Keep in mind that most offshore brokers are fraudsters seeking to cut financial and regulatory corners, and this one does not seem any different.
On top of everything, FCA has added Key Markets to the warning list.
What Is Wrong – Red Flags
This, as every other scam offer is creaming with red flags, and they are so obvious. Let sum up all of them:
Fake owners – People that should have been behind creating this software aren't who they say they are. Why hide behind fake names if something you offer is legit?
No real proof of work – Major world exchanges were mentioned, but never by names. I find it hard to believe there is of the major exchange in the game here.
Fake testimonials – Paid actors are one special characteristic of scams.
The pressure to join – Creating false scarcity that free spaces will disappear if you don't join right away is also common for most of the scam offers.
Several different web domains – This is what dazzles me really. Why having multiple different domain names with the same product?
Unrealistic income expectation – 90% successful trades is a big lie. Nobody can guarantee such a high percentage of successful trades.
Generic income proofs – Creating random names with random income proof to present like this actually really work is sleazy move.
Requires money to invest – Even though the software itself is free, it is useless without paying at least $250 to a broker account.
Offshore brokers – $1,000,000 algorithm is connected with Key Markets, an offshore broker which are not obligated to report regularly to any authority.
Conclusion And My Final Verdict
It is never a good sign when the owners are laying about them self and making things up to see like they are someone important. $1,000,000 algorithm is nothing else but a lame attempt of scam. They even created several different pages with the same content just to try and lure you into their web. Hopefully, you had found this review before it was too late.
Fake owners, fake testimonials, unrealistic income promises, offshore brokers. Everything pointing out this is something you should avoid in a wide circle. Do not fall into the trap of easy money. There is no such thing. For online income, you have to devote yourself and put time and effort into it. And the best way to do it is through the platform which I am also using, and would highly recommend it.
It is free to use (yes, no credit card or money upfront for starter members) and have great training videos that will guide you step by step toward making money online.
You can learn about it here.
If you have any questions about $1,000,000 algorithm or would like to request a review, feel free to write a comment and I will be happy to reply to you!
Until the next time, I wish you all the best!
Dalibor.