Today I will give you my most honest review for SA TOP OPTION. What I will be focusing here is some details that seem critical, yet can be easily overlooked. So, let us begin.
Overview And Ranking
Name: SA TOP OPTION
Owner: Smart24 Investment Group
Website URL: www.satopoption
Created: 2019
Training: Yes
Price: R5000 ($345)
Overall rating: 0/10
Little History About
SA TOP OPTION state they are Online Wholesale Company that looks for the best selling products and locates cheapest suppliers and then through advertising platforms (they say they use Alibaba.com) receiving customers and selling products and getting millions of orders per day.
Their audience is from 26 countries, delivering goods from 10 to 30 days policy. Products they sell are paid by their customers through Alibaba.com and are shipped from supplier to customer.
How It Works
Their main page says they are online distribution business and promising you will get 200 orders to process monthly. Their main focus is:
R875,000 Per Month Processing Diesel Orders
R500,000 Per Month Processing Natural Gas Orders
R500,000 Per Month Processing Crude Oil Orders
R500,000 Per Month Processing Toilet Paper Orders
R250,000 Per Month Processing Urea Fertilizer Orders
According to that, you could earn even up to R2,500,000 per month, which is about $172,425. Apparently, it is all automated, or in other words, they take care of advertising, the pricing, profits, locating the best global suppliers and everything else.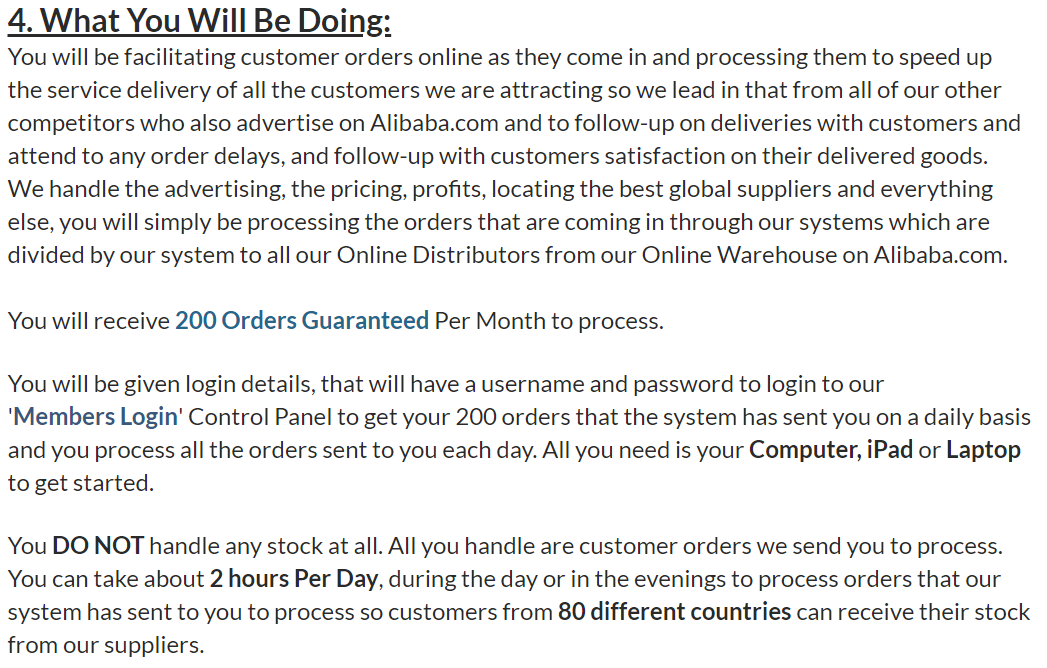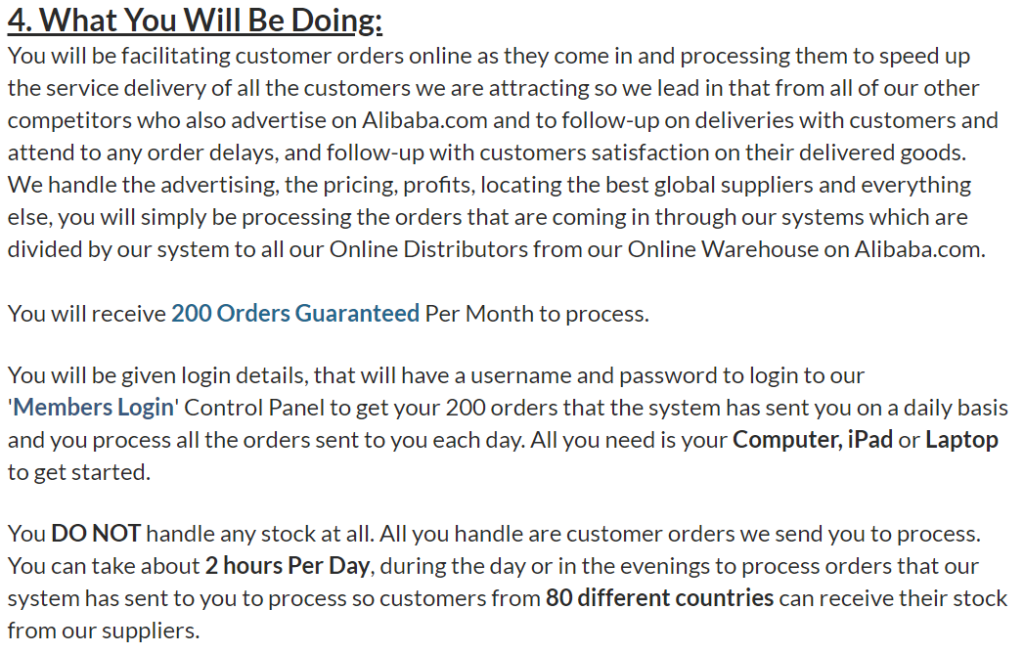 You only need to process the orders that are coming in through their system at their Online Distributors from Online Warehouse on Alibaba.com.
All that work can be processed in 2 hours, as they claim. So you could be doing about 60 hours per month and get 172 thousand dollars.
I don't know, but that is a lot of money for just processing orders. Somehow seems not real, doesn't it?
Owner
Owner of this site is Smart24 Investment Group and they are only mentioned in the registration and payment form. There isn't any other name mention.
I tried to Google them, and search results with only one relevant results. But it reveals a very interesting thing.

saoilbuisness.com have same company owner as satopoption.com. And a quick look at saoilbuisness.com can tell they are exactly same sites!
Ok, they not mentioning numbers, but site layout and business profile for trading diesel, biodiesel gas, and toilet paper are the clearly same pattern.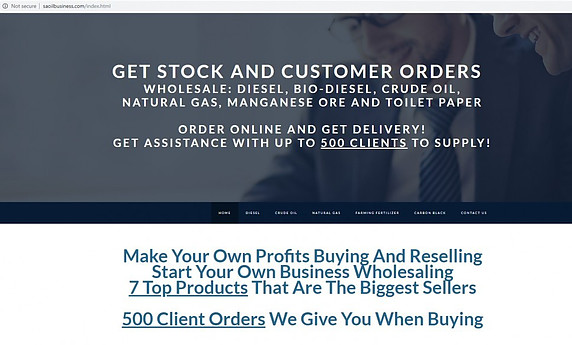 Looks familiar? Here they are offering even more: 500 clients per month! And with more clients comes a higher registration fee. Logically. But wait! There is more!
Their "contact us" page is inviting you to pay $1500 to become a member and send email to accounts@mytradeport.com. Let's try looking for mytradeport.com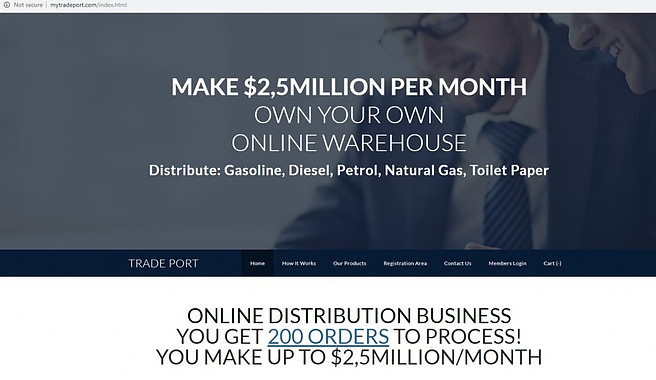 Here, however, they do mention numbers, just like in satopoption.com, but instead of ZAR, value now is in dollars! Again, the same business plan. The difference is they ask for "only" $250 for registration.
Why are they having three different sites, three different prices and all in the same business plan I don't know. What I do know is it doesn't look honest.
Personally, I wouldn't believe someone who is trying to hide his real company name and have several different sites to promote the same business. Just think about it: why would you need three different places to promote your business in the same way?
Training
They promise to give easy step-by-step training manual guide that will help you understand exactly how you will be receiving the 200 Orders which will be sent to your Account Control Panel, and how you will be processing the 200 Orders and how you will be also doing follow-ups on customers orders on the system and how to deal with any delayed orders.
They also have fully trained staff members who will offer support and assistance when you require it at any time.
I was unable to inspect any of that, because, in order to get access to all of that, you first need to bay for registration.
Registration
One funny thing with their registration page is important noticed which say that registration close at a certain time.

However, when I come back and check tomorrow, the date was changed! Now it wasn't Friday 22 March anymore, but Saturday 23 March.

Why would they do this? To implant into you a sense of urgency, to make you act right away!
Price
To become their member (on that site), you need to pay R5000 ($345) to their bank account and then send them an email with proof of payment. Then, they will provide you with the username and password within 3 business days. How will they do that stays unclear. I guess via email?
Their payment form looks unprofessional in my opinion.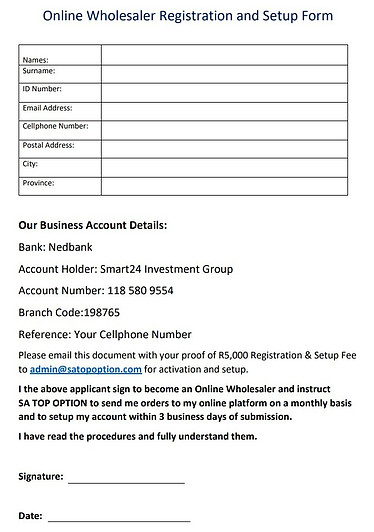 Conclusion And My Final Verdict
I can't point enough how this is more than clear something is wrong here! Not only they are trying to hide their identity, but they are also doing it in three different places and at the very same way. It doesn't make any sense.
Besides, when I tried to email them, their contact form is spelled wrong! Instead satopoption.com, they write it satopotion.com (SA TOP OTION). And that is the email you should send proof of your payment at! What serious company could make such a mistake!


Fact that they are changing their date to implant that feeling you will miss if you don't act right away is low move. All of these are clear signs this is a SCAM to take your money! I don't trust them, and neither should you!
If you are determined to make money online, let me introduce you to a platform that I love to use. It is free to use (yes, no credit card or money up front for starter members) and have great training videos that will guide you step by step toward making money online.
You can learn about it here.
If you have any questions about SA TOP OPTION or would like to request a review, feel free to write a comment and I will be happy to reply to you!
Until the next time, I wish you all the best!
Dalibor.